Flirteezy is a relatively new dating app that appeared for the first time in 2019. The app is still a little unknown, but promises a lot. The dating app is already well known, especially in Asia. In the Flirteezy review, we took a closer look at the app and website and reveal what it has to offer and for whom it is worthwhile. But above all, let's take a look at the range of ladyboys at Flirteezy.
Register with Flirteezy
The registration at Flirteezy is made very simple and unproblematic. If you want to start dating as soon as possible, you can register via Facebook or Google. Otherwise there is still a choice via email. You can start dating in a few minutes.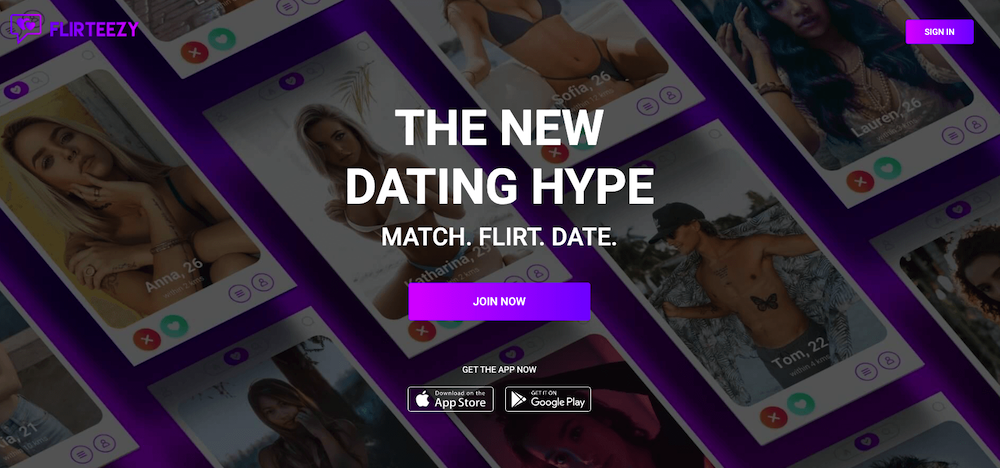 Overview and design
Flirteezy is simple and simple, but still kept modern. You can see the most important things straight away and don't have to spend a long time using it. The interface and ease of use is fantastic. In the upper area (on the website) you can find all functions and areas. Immediately below you can already see suggestions with possible dates. The use of the app goes without saying. It is similar to Tinder.
Members of Flirteezy
Flirteezy has members all over the world. Most of them can be found in Asian countries such as Thailand and the Philippines, as well as Singapore etc. But members can also be found in almost every place in Europe. The good thing is that you can easily search for it even in the free version.

If you open the profile, you get a lot of information. You can assign stars and see how well you fit together. This is determined using an algorithm. You can also see all information such as age, pictures, interests and much more. Here you also have the choice to send her / him a message or a small gift to break the ice.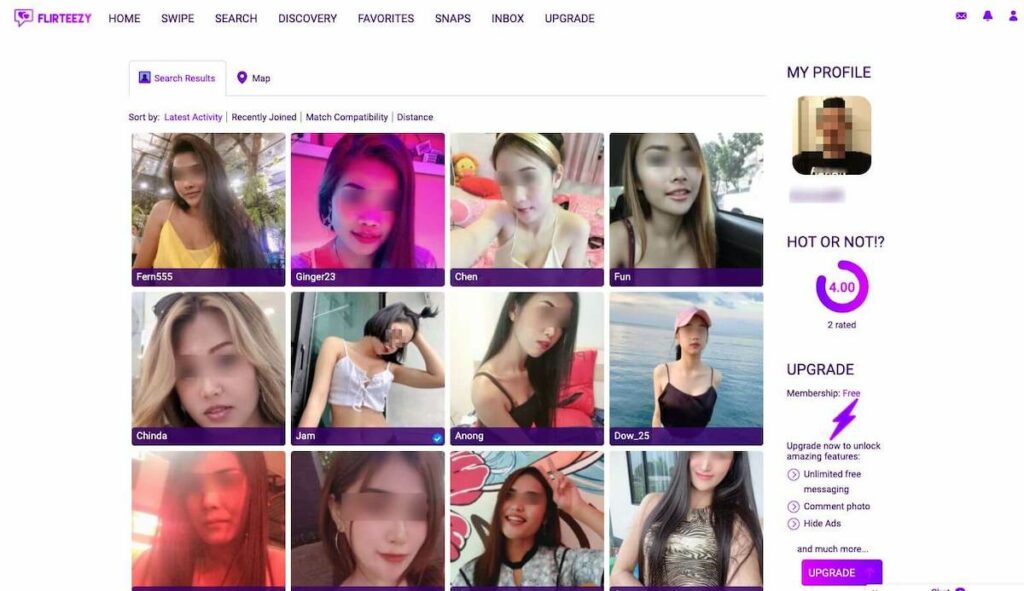 Special features of the app
Flirteezy has some cool features. In addition to the news function, which is clearly the focus, you can also rate members. You can also see the last pictures of the members in the "Snaps" area. The pictures can be rated and commented on. All of this is also in the free version.
Members can be searched for nearby with the swipe function. As with Tinder, you can show someone that you are interested or not. In contrast to Tinder and other apps, Flirteezy does not have any limits on the swipes in the free version.
Another special feature and advantage of the app is security. Profiles without a correct profile picture will be deleted after a short time. It is a requirement to upload a correct picture. You can be verified as a user. All profiles are checked manually. With this procedure, fakes can be excluded. A blue tick shows whether a user is verified.
Flirteezy Premium
Flirteezy is free. However, there are some limitations. There is a welcome bonus when you register, as well as free credits every day you use it. These can be used for messages and gifts. You can buy credits and use them, but you can also get a premium membership, which is definitely the better choice. This offers more functions.
With the gold membership unlimited messages can be sent. You can also see who has looked at the profile. You can leave comments and view the Hot or Not ratings. This is not possible in the free version. In the Diamond membership you are also listed in the hotlist and you can start video telephony. The latter is a particularly good feature that only very few dating apps offer.
Chances of success at Flirteezy
The chances of success at Flirteezy are very good. At least if you are looking for men or women. You can also find ladyboys, but the choice is still a bit limited. Usually you can recognize the ladyboys at Flirteezy immediately. Many also stated it in their profile. With others, however, you will not find any information. We had the best chance of success where we looked for men in Thailand. Many ladyboys (and homosexuals) are also listed there.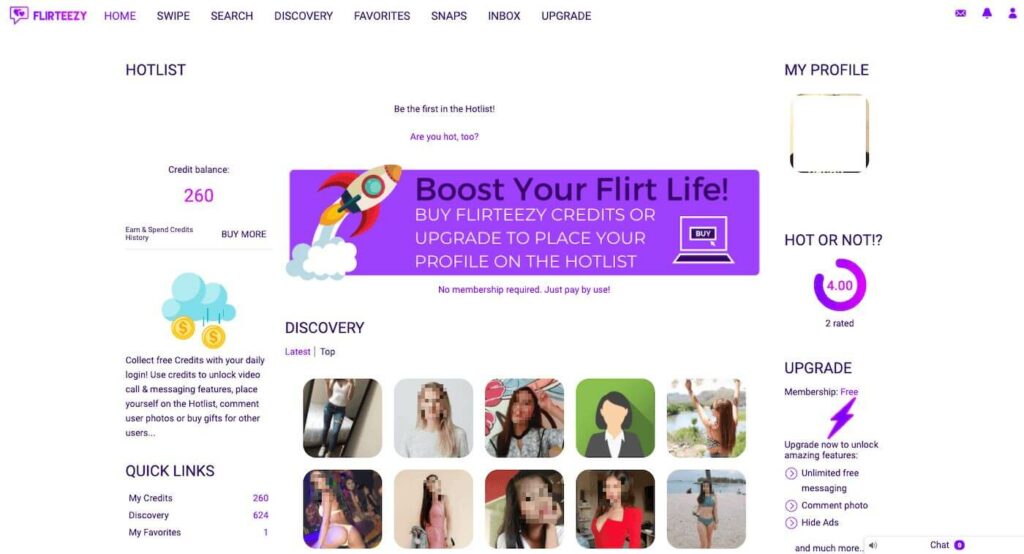 CONCLUSION: Flirteezy Dating App
Flirteezy isn't a pure ladyboy dating app, which is a good thing. It's modern, has a lot of cool features, and is very easy to use. If you are specifically looking for ladyboys, the search can take a while. If, on the other hand, you are open to everything, you have a very good chance of getting on a date quickly. Since the app can be used very well for free, it is definitely a recommendation. Really everyone should try them out.