The dating site PinaLove Ladyboy is one of the largest dating sites for Filipino ladyboys and women. You can use this to search not only for normal women, but also for ladyboys from the Philippines. How good the site is and whether it is worth it, we reveal in the PinaLove Ladyboy review. We looked at the site in detail and also revealed our experiences.
PinaLove Ladyboy review
In the PinaLove Ladyboy review we present all functions of the site. But first and foremost, we are interested in how good the site for finding Filipino ladyboys is. Since it is a mixed side, this point is particularly important to us. We also reveal our experiences with PinaLove Ladyboy so far. So you can decide for yourself whether the site is also worthwhile for you.
PinaLove Ladyboy overview
Before we reveal our experiences and introduce you to the functions of PinaLove Ladyboy in detail, you will get an impression of what to expect. Here we present all functions and especially the search function, because these are very important for a dating site.
PinaLove Ladyboy registration
Unfortunately, we find the registration at PinaLove Ladyboy anything but good. You can only register via the telephone number or via Facebook. There is no simple registration via email, as is normally the case. In itself that's not bad, but in the end you can never know what will happen to the phone numbers. However, since PinaLove Ladyboy is a reputable site, you are normally safe and the data will not be passed on.
PinaLove Ladyboy members
PinaLove Ladyboy is one of the largest dating sites for the Philippines with a current membership of almost 900,000. As already mentioned, not only ladyboys but also women are registered on the site. In the Philippines alone, there are over 1000 Filipino ladyboys to be found. For this reason, there is certainly something suitable for every taste.
PinaLove Ladyboy search function
The search function at PinaLove Ladyboy is not very good. This is kept very simple and simple. You can only search for women or ladyboys, as well as men, but otherwise only the standard items such as country, city, age, etc. are available. If you are looking for something very special, such as tattoos, religion, etc., it is a little difficult.
Ladyboys on PinaLove
On PinaLove you will find a very large selection of ladyboys. There is something for every age group. Most of them, however, are around 30 years old. You can also find 20 year olds, 35 and older, but most of them are in their early 30s and also look very sexy. Manila, Cebu and Angeles City have the largest and best selection. You don't have to look far there to be able to arrange a date with a Filipino ladyboy.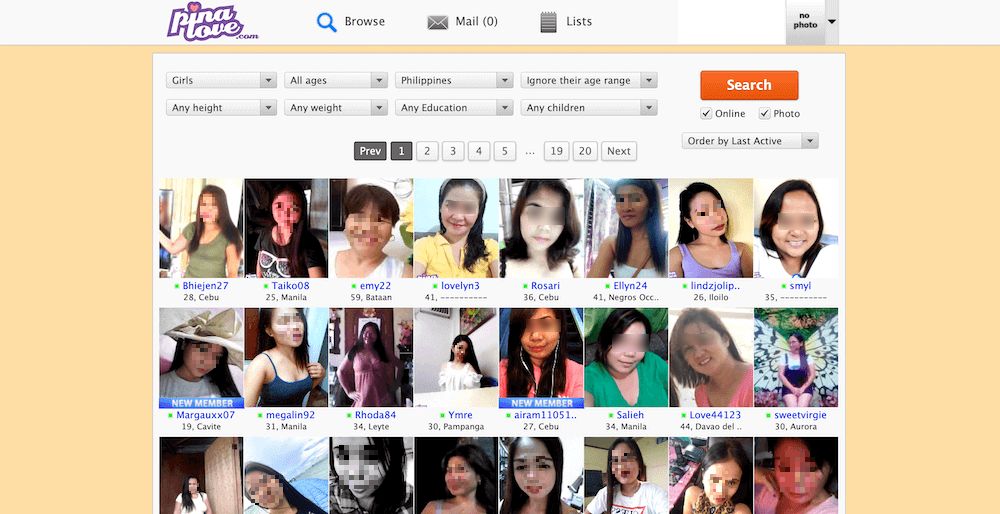 PinaLove Ladyboy Premium
Registering and using PinaLove Ladyboy is free. Like any dating site, there are limitations. For example, you can only send a message every 10 minutes. This is very cumbersome, but PinaLove is one of the few sites where this is still possible. A PinaLove Premium Membership is required to activate all functions and to deactivate the limit for messages. This is worthwhile, however, because the prices are fair and you can find and meet women and ladyboys.
PinaLove Ladyboy prices
Depending on how long you decide to become a member, the prices are correspondingly lower. A single month is a bit expensive at $ 24. If you opt for a 3 month membership, the total price is only $ 49. However, the cheapest way to get it is with an annual membership, where you get the highest discount. An annual membership to PinaLove costs just $ 119. This makes it one of the cheapest dating sites, especially for Filipinas.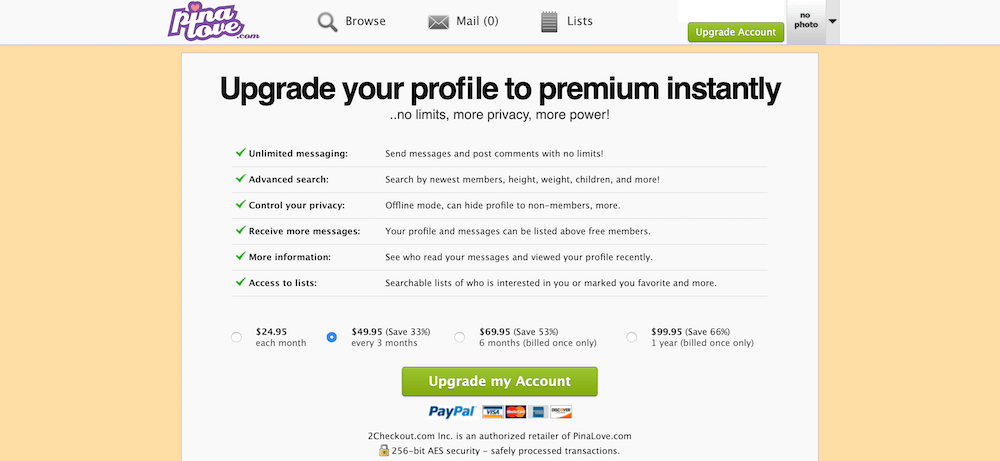 PinaLove Ladyboy chances of success
The chances of success at PinaLove Ladyboy are very good. However, it plays a big role where you are. The site doesn't work well in every country, at least that's what we noticed in the PinaLove Ladyboy review. We have attached a list of how we felt about it and what success you can expect on PinaLove.
Chances of success on PinaLove Ladyboy in the Philippines
PinaLove Ladyboy only works in the Philippines. Who in Thailand, Vietnam, or even in Korea looking for Filipino ladyboys on the site, you won't get many hits. Almost all of the singles here are in the Philippines. Only a few can be found in Hong Kong or Singapore. Success, regardless of whether you are looking for something serious or just having fun, can only be found in the Philippines.
Our assessments of the chances of success on PinaLove Ladyboy
Anyone looking for paid sex with freelancers and bar girls will get their money's worth 100%. At least if you are in the Philippines.
If you want to go on dates with nice Filipino ladyboys, you will get your money's worth 100%.
If you are after free sex, you will get 70% of your money's worth on PinaLove Ladyboy, provided that you are young and good-looking.
70% of those who are looking for a partner for life will find what they are looking for
PinaLove Ladyboy serious?
In short, yes, PinaLove Ladyboy is serious. In general, all Filipino dating sites are very reputable. The women there are actually looking for a relationship. According to our experience and assessments, there are also no scammers on the site. In any case, personally we never noticed anything. However, one should always be careful when dating online. Especially if the question of money comes up before the first meeting, you should break off contact.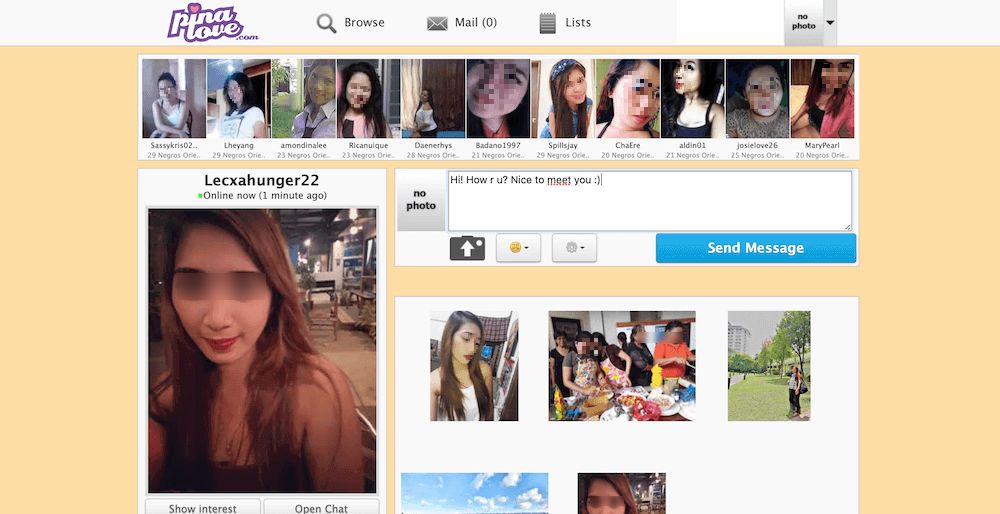 PinaLove Ladyboy experiences
Personally, we have had very positive experiences lately, which is why PinaLove Ladyboy is now one of our favorites. You can find a date quickly, no matter what kind. However, many only want a one night stand with subsequent payment. If you are looking for fun, you are guaranteed to find it and be satisfied on PinaLove Ladyboy. But you can also find something serious. In any case, everything is included for our requirements.
CONCLUSION: PinaLove Ladyboy review
PinaLove has changed for the better in the last few years. Most importantly, the site has become a lot bigger. The first time we used PinaLove was in 2015. There it was relatively difficult to get to know someone who also appealed to you. Nowadays you have an extremely large selection and finding a date with a Filipino ladyboy is very easy. Since you can use the site free of charge, even if it is cumbersome, everyone should register once and see for themselves. If you are looking for a date or want to meet many different ladyboys, you need a premium membership.
PinaLove Ladyboy alternative
MyLadyboyDate is an international dating service developed exclusively for transgender women. It's one of the biggest sites for Thai ladyboys. But you can search for ladyboys all over the world. The site is particularly useful if you are looking for a serious relationship. It is best to have a look at our MyLadyboyDate review, there we have already mentioned our experiences. Or simply register for free and review the site yourself.
Could we convince you of the dating site with our PinaLove Ladyboy review? Have you tried them yet? Leave us a comment and tell us what experiences you have had and what you did not like.