Ladyboys are not as strongly represented in the Philippines as in Thailand, for example. Everything is a little less transsexual here. At least at first glance. The truth is, there are many, especially in Angeles City. You see them less on the streets, but online. Even more people like those in Thailand are registered on dating sites! If that's what you're looking for, Angeles City is the best place to meet Filipino ladyboys. There are no typical ladyboy bars here either, but you are guaranteed to meet some on the streets, in the discos and also in the massage salons.
Chances are you'll find freelance ladyboys on the streets. Unfortunately, it is not easy to say exactly where these are located. It's best to walk up and down Fields Avenue in front of Walking Street and it won't be long before some ladyboys offer you their services. The average price is 1,000 Peso, that's all you should pay a freelance ladyboy. In my opinion, the best way to meet ladyboys in Angeles is through the internet. In online dating sites like Flirteezy and MyLadyboyDate there are a lot of ladyboys, including quite normal ones, who don't buy. Many are on their own in search of a lover for the night. However, if a ladyboy buys, he'll let you know. On average, you should calculate with 1,500 PHP.
Find ladyboys in Angeles City
Many of the ladyboys also gather in the clubs in Angeles. During my visits I have already noticed some ladyboys who go to parties there with their Filipino friends. Most of the business is on the weekend – Friday and Saturday, so try your luck there. I also spotted quite a few ladyboys in Brettos's Sports Bar, which is located in Walking Street. The ladyboys come here mainly to look for customers. This has the advantage that you don't have to buy expensive lady drinks, you only have to pay the normal price for the drinks. Take the ladyboy out for a drink and everything else will work out by itself. In terms of price, the ladyboys want to see 1,500 pesos here, but everything is a matter of negotiation and if you're lucky, you can get a ladyboy for a short time for 1,000 peso.
Ladyboy Online Dating in Angeles City
As already indicated, dating platforms have the best chances to meet ladyboys in Angeles City or generally in the Philippines. There are two main sites where you will find what you are looking for the fastest. You can find ladyboys on Flirteezy, PinaLove and FilipinoCupid, but they are not the best choice. This are good sites to meet girls.
Without a doubt the best side is MyLadyboy Date. There are so many to choose from here. Not just in Angeles City, but all over the Philippines. Over 120,000 members are currently registered on MyLadyBoyDate. That's a lot, especially if it's a niche. It is one of the largest transgender dating sites. Since you can register for free and get an overview, it is never wrong to try it out.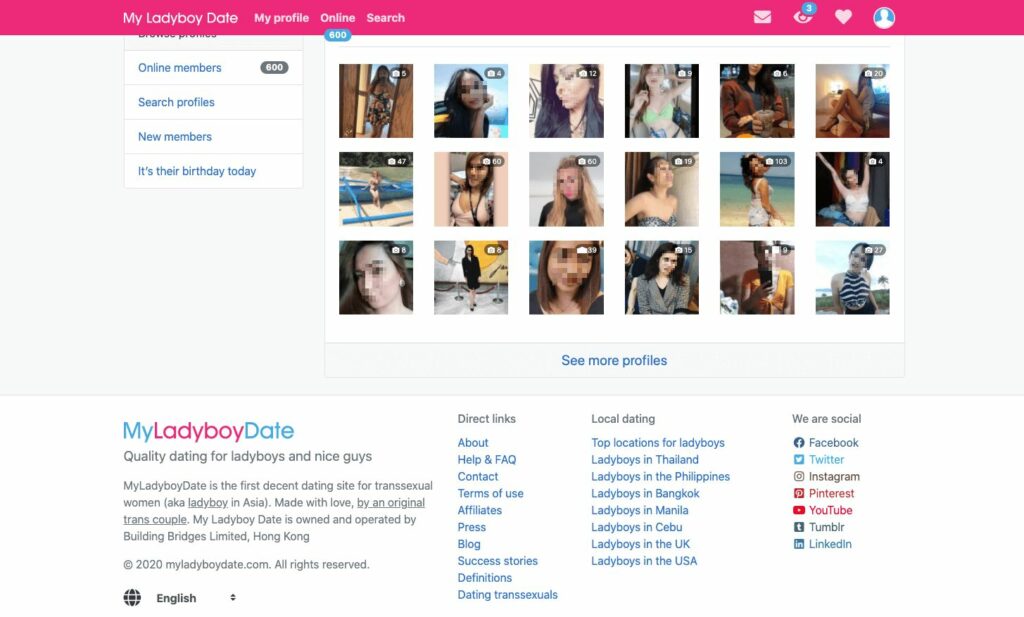 Another very good site for finding ladyboys in the Philippines is LadyboyKisses. The site is not that big, but it has a lot to choose from. The site is not that modern, but that doesn't matter. You should take a look.
Please leave me a comment which of the dating sites you use, or where you have had the best success meeting ladyboys in Angeles City.