In this post we show how to recognize ladyboys. The whole thing is not always that easy, because many of the ladyboys are so well made that it is hardly possible to tell whether it is really a woman. However, there are some features that you can look out for, where you can usually tell whether it is a ladyboy. We have attached how to recognize a ladyboy.
Recognize ladyboy
At the latest when you are in the room and pull your panties down, you can tell whether it is a ladyboy or not. For many, however, that is already too late. Not everyone has the desire to date or have sex with a ladyboy. We have often seen that in Thailand, but also in the Philippines, tourists were not able to see the difference between a woman and a ladyboy. So that this doesn't happen to you too, in the Ladyboy Recognize Guide we reveal what to look out for. If you just pull yourself together, even as a layman, you can tell the difference between a woman and a ladyboy relatively quickly.
Adam's apple
The Adam's apple is a reliable identifier, even if it has already been removed in many cases. But then a small, noticeable scar can be seen there. The first thing to do is to see if you can see Adam's apple, because it can be used to quickly find out whether it is a ladyboy or not.
Feet & hands
Men have bigger feet than women and this is not only the case in Asia but everywhere. Even with hormones, these don't get smaller. And there is no surgery to reduce the size of the feet. For this reason, you should always take a look at your feet. In Thailand it can be a bit difficult, because the Thai men also have relatively small feet. But if you have seen a woman's foot, which has a maximum shoe size of 36, you can quickly recognize a ladyboy's foot. These have around 40-42. It just stands out.

Ladyboys also have larger hands than women. With the hands, we find that it is also noticeable very quickly. Especially when you touch a hand once, you notice it. There can be differences here, but you usually notice it.
Language and pronunciation
In many cases you can recognize a ladyboy because they have a much deeper voice. Disguising your voice doesn't always help. For some, the hormones have made their voice so soft that it is very difficult to tell the difference. If you want to recognize a Thai ladyboy, there is another point to pay attention to, the pronunciation or the language.
This point only works in Thailand and not always. In Thailand it is the case that at the end of a sentence a "Krap" is added as a form of politeness as a man. Women add "kha" to it. Not always, but very often, ladyboys speak "Hah". To hear the Kha of the Hah is very difficult, especially as a layman. But if you hear it, it is very likely a ladyboys, because they often say it that way.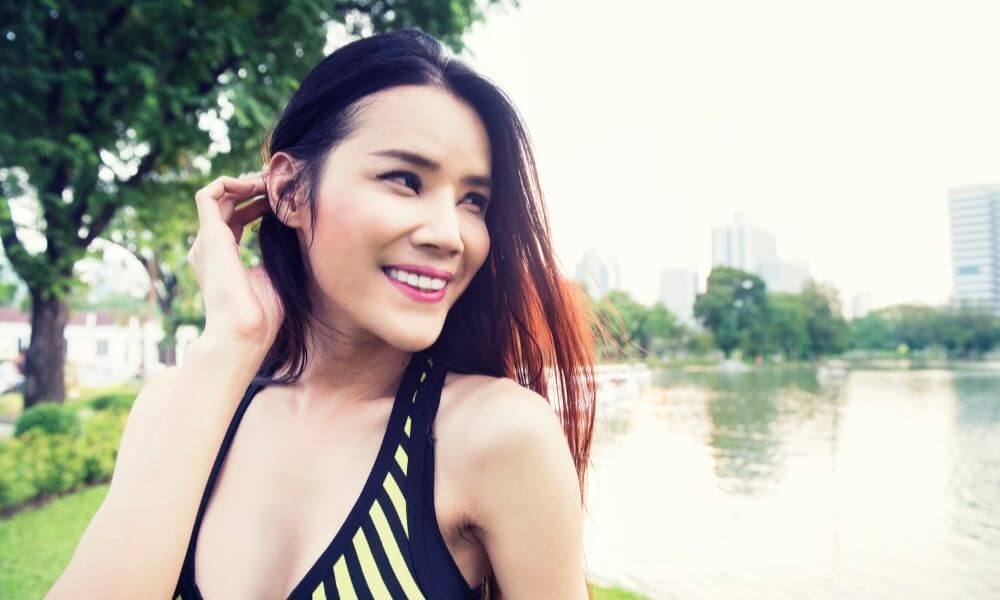 Ladyboys recognize checklist
Everything summarized again below. If you are unsure, simply check the following points if possible. However, 90% of the ladyboys can be identified quickly and reliably using the following characteristics:
The body size – the larger, the less likely it is a ladyboy.
Stature and Shoulders – Only ladyboys have broad shoulders and muscular stature.
Larynx – The Adam's apple is a reliable identifier.
Breasts – Are the breasts made and do other characteristics match? Then the chance of sitting across from a ladyboy is high.
Hands – A man's hands are always larger than a woman's.
Feet – Large feet suggest a ladyboy.
Bulge in the pants – Ladyboys in sexy leggings or tight dresses can hardly hide their best part
Size of the pelvis – The pelvis, which is wider in women due to childbearing ability, is a reliable distinguishing feature.
Voice – At the latest when the first words are exchanged, it is quickly clear whether it is a woman or a man.
Questions – Don't be afraid to ask questions. A ladyboy is unlikely to lie.